Search For Car
Total Price Calculator

Help

Please select your country and Delivery Destination, then click the CALCULATE button.
Area

Insurance

Help

Need Marine Insurance, please check "Yes".

Registration Country

Inspection

Help

Need inspection (EAA, JEVIC, etc), please check "Yes".

Delivery Destination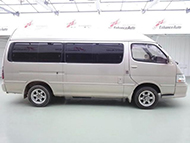 TOYOTA HIACE
Our used Toyota HiAce for sale are always our bestsellers. The HiAce is known worldwide for its reputation to last and last and last. Use it as a taxi or a bus, and change your life for the better. Every day, everywhere and every time, our dependable Toyota HiAce is running with the respect by people all over the world. Buy your HiAce from the HiAce experts – Enhance Auto!
Stock List
Photo
Ref ▲ ▼
Make
Name
Year ▲ ▼
Trans
CC
FOB ▲ ▼
Total

NEW!!

148345
TOYOTA
Hiace
1994
MT
2,700
5,009USD
select registration
country & port

NEW!!

148162
TOYOTA
Hiace
2001
MT
2,000

4,407USD

select registration
country & port

NEW!!

148077
TOYOTA
Hiace
1996
AT
3,000

1,780USD

select registration
country & port

147890
TOYOTA
Hiace
2004
MT
3,000

5,026USD

select registration
country & port

147778
TOYOTA
Hiace
1994
AT
3,000

1,924USD

select registration
country & port

129835
TOYOTA
Hiace
1997
MT
3,000

1,594USD

select registration
country & port

147412
TOYOTA
Hiace
1997
AT
2,400

2,916USD

select registration
country & port

147334
TOYOTA
Hiace
1998
AT
2,400

3,111USD

select registration
country & port

147295
TOYOTA
Hiace
2003
MT
3,000

4,017USD

select registration
country & port

127327
TOYOTA
Hiace
2000
AT
3,400

1,178USD

select registration
country & port

146768
TOYOTA
Hiace
2000
MT
3,000

5,119USD

select registration
country & port

146688
TOYOTA
Hiace
1994
AT
3,000

1,814USD

select registration
country & port

146574
TOYOTA
Hiace
1993
MT
2,770

5,000USD

select registration
country & port

146373
TOYOTA
Hiace
1999
AT
3,000

2,289USD

select registration
country & port

146232
TOYOTA
Hiace
1994
AT
3,000

1,975USD

select registration
country & port

145870
TOYOTA
Hiace
1996
AT
2,800

4,136USD

select registration
country & port

145869
TOYOTA
Hiace
1998
AT
2,800

3,806USD

select registration
country & port

145435
TOYOTA
Hiace
1995
AT
2,800

4,382USD

select registration
country & port

144509
TOYOTA
Hiace
1999
MT
3,000

3,662USD

select registration
country & port

144398
TOYOTA
Hiace
2003
MT
3,000

3,763USD

select registration
country & port

144107
TOYOTA
Hiace
1997
AT
3,000

1,670USD

select registration
country & port

134452
TOYOTA
Hiace
1997
AT
2,400

3,806USD

select registration
country & port

134710
TOYOTA
Hiace
1990
MT
2,800

4,331USD

select registration
country & port

143351
TOYOTA
Hiace
1997
MT
2,800

4,687USD

select registration
country & port

143003
TOYOTA
Hiace
1993
MT
2,800

5,153USD

select registration
country & port

142879
TOYOTA
Hiace
2003
MT
3,000

4,034USD

select registration
country & port

142654
TOYOTA
Hiace
1995
MT
3,000

3,789USD

select registration
country & port

142497
TOYOTA
Hiace
2000
MT
3,000

3,814USD

select registration
country & port

142436
TOYOTA
Hiace
1994
MT
2,800

4,509USD

select registration
country & port

140667
TOYOTA
Hiace
2002
MT
3,000

3,831USD

select registration
country & port

139607
TOYOTA
Hiace
1996
MT
2,800

3,916USD

select registration
country & port

139662
TOYOTA
Hiace
1998
AT
2,400

3,899USD

select registration
country & port

138943
TOYOTA
Hiace
2000
AT
3,000

2,017USD

select registration
country & port

138783
TOYOTA
Hiace
1991
MT
2,800

4,178USD

select registration
country & port

137744
TOYOTA
Hiace
2000
AT
2,700

1,458USD

select registration
country & port

137835
TOYOTA
Hiace
1997
MT
3,000

4,382USD

select registration
country & port

137728
TOYOTA
Hiace
1994
AT
3,000

1,823USD

select registration
country & port

137531
TOYOTA
Hiace
1996
AT
3,000

1,958USD

select registration
country & port

137326
TOYOTA
Hiace
1998
AT
2,400

3,619USD

select registration
country & port

135345
TOYOTA
Hiace
1993
MT
2,800

4,178USD

select registration
country & port