Search For Car
Total Price Calculator

Help

Please select your country and Delivery Destination, then click the CALCULATE button.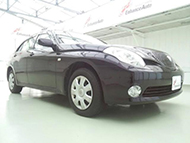 TOYOTA Verossa
Our used Toyota Verossa stock is all Quality Guaranteed! One of the best designed sedans of all time, a used Toyota Verossa for sale is an opportunity for success. The Verossa's Italian inspired design attracts many people all over the world. Furthermore, its powerful engine promises you a long, comfortable and luxury driving life. The Toyota Verossa is the best designed sedan with Japanese technology for you. See the comparable Toyota Crown here.
Stock List
Photo
Car
Year ▲ ▼
Model
Mile
Trans
Engine
FOB ▲ ▼
Total
TOYOTA
VEROSSA
2001
GX110
6025794
45,693
AT
2,000
Petrol
991USD
select registration
country & port

TOYOTA
VEROSSA
2004
GX110
6093945
141,508
AT
2,000
Petrol

1,141USD

select registration
country & port