Search For Car
Total Price Calculator

Help

Please select your country and Delivery Destination, then click the CALCULATE button.
Area

Insurance

Help

Need Marine Insurance, please check "Yes".

Registration Country

Inspection

Help

Need inspection (EAA, JEVIC, etc), please check "Yes".

Delivery Destination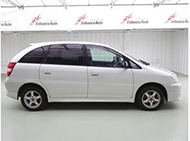 TOYOTA Nadia
With its powerful engine, spacious interior and youthful styling, the Toyota Nadia is a perfect bargain for those who know value. The Nadia is a workhorse raring to go. Backed by the world renown Toyota dependability, the Nadia a wise investment for the prudent buyer. Buy your used Toyota Nadya from Enhance and rest easy knowing the future is bright.
Stock List
Photo
Ref ▲ ▼
Make
Name
Year ▲ ▼
Trans
CC
FOB ▲ ▼
Total
135197
TOYOTA
Nadia
2001
AT
2,000

806USD

select registration
country & port