Search For Car
Total Price Calculator

Help

Please select your country and Delivery Destination, then click the CALCULATE button.
Area

Insurance

Help

Need Marine Insurance, please check "Yes".

Registration Country

Inspection

Help

Need inspection (EAA, JEVIC, etc), please check "Yes".

Delivery Destination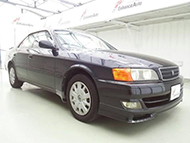 TOYOTA Chaser
The Toyota Chaser is a sporty mid-sized upper class car. Considered by many to be Toyota's best looking performance sedan, the Chaser possesses a dominating presence. The interior features of the Chaser are on par with much more expensive automobiles. The power of the engine and the responsive handling are second to none. Buy your used Toyota Chaser from Enhance Auto today!
Stock List
Photo
Ref ▲ ▼
Make
Name
Year ▲ ▼
Trans
CC
FOB ▲ ▼
Total
147200
TOYOTA
Chaser
1997
AT
2,000

738USD

select registration
country & port

146648
TOYOTA
Chaser
1998
AT
2,000

814USD

select registration
country & port

139565
TOYOTA
Chaser
1998
AT
2,000

882USD

select registration
country & port