Search For Car
Total Price Calculator

Help

Please select your country and Delivery Destination, then click the CALCULATE button.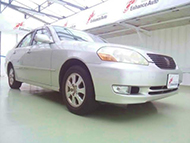 TOYOTA Mark2
The Toyota Mark II is a well known middle sized luxury sports sedan a solid reputation for dependability. The Mark II was designed not only for domestic Japan market but also for international market, so the Toyota Mark II has been sold great numbers all over the world, and is affordably maintained. An invigorating driving experience! Our used Mark II for sale from Enhance Auto is Quality Guaranteed! Also see the our Brevis stock.
Stock List
Photo
Car
Year ▲ ▼
Model
Mile
Trans
Engine
FOB ▲ ▼
Total
TOYOTA
MARK II
2003
GX110
6074533
132,762
AT
2,000
Petrol

1,103USD

select registration
country & port

TOYOTA
MARK II
2001
GX110
6035507
105,226
AT
2,000
Petrol

1,066USD

select registration
country & port

TOYOTA
MARK II
2001
GX110
6034219
117,529
AT
2,000
Petrol

1,047USD

select registration
country & port

TOYOTA
MARK II
2001
GX110
6009738
65,550
AT
2,000
Petrol
1,047USD
select registration
country & port

TOYOTA
MARK II
2001
GX110
6010002
140,777
AT
2,000
Petrol
991USD
select registration
country & port