Search For Car
Total Price Calculator

Help

Please select your country and Delivery Destination, then click the CALCULATE button.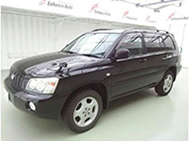 TOYOTA Kluger
Our used Toyota Kluger stock is inspected three times and Quality Guaranteed!

In the market for a dependable luxury crossover SUV? The Kluger is Toyota's #2 bestselling crossover SUV, second only to the Rav4 The Kluger delivers high levels of comfort with Toyota's higher-end interior, contoured seats and enhanced soundproofing. The Kluger is also known for its all-terrain capabilities and advanced safety features.
Stock List
Photo
Car
Year ▲ ▼
Model
Mile
Trans
Engine
FOB ▲ ▼
Total
TOYOTA
KLUGER
2001
ACU20
0003074
62,190
AT
2,400
Petrol

3,402USD

select registration
country & port

TOYOTA
KLUGER
2001
ACU20
0015965
168,001
AT
2,400
Petrol

3,187USD

select registration
country & port

TOYOTA
KLUGER
2002
ACU25
0013659
123,480
AT
2,400
Petrol

3,206USD

select registration
country & port

TOYOTA
KLUGER
2001
ACU20
0005820
80,745
AT
2,400
Petrol

3,206USD

select registration
country & port

TOYOTA
KLUGER
2001
ACU20
0012694
116,810
AT
2,400
Petrol

3,150USD

select registration
country & port

TOYOTA
KLUGER
2002
ACU20
0037389
134,802
AT
2,400
Petrol

2,879USD

select registration
country & port

TOYOTA
KLUGER
2001
ACU20
0010403
123,593
AT
2,400
Petrol

3,337USD

select registration
country & port

TOYOTA
KLUGER
2002
ACU20
0035247
168,133
AT
2,400
Petrol

3,000USD

select registration
country & port