Search For Car
Total Price Calculator

Help

Please select your country and Delivery Destination, then click the CALCULATE button.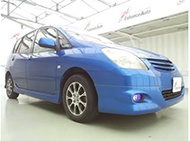 TOYOTA Spacio
The energetic, seven seater Corolla Spacio is stylish in design and affordable to drive with a fuel consumption of just 16.0km/L! Easily maneuverability with a turning radius of just 4.9 meters, combined with a spacious interior and Toyota's world-famous dependability to provide a relaxing driving experience. Power locks, power windows, power mirrors, climate control and ABS are all standard. Plus, our Quality Guarantee assures your investment! Also see our used Toyota Wish!
Stock List
Photo
Car
Year ▲ ▼
Model
Mile
Trans
Engine
FOB ▲ ▼
Total
TOYOTA
COROLLA SPACIO
2001
NZE121
3065867
110,514
AT
1,500
Petrol

1,197USD

select registration
country & port

TOYOTA
COROLLA SPACIO
2002
NZE121
3156047
125,373
AT
1,500
Petrol

1,356USD

select registration
country & port

TOYOTA
COROLLA SPACIO
2002
ZZE122
3029607
161,030
AT
1,800
Petrol

1,253USD

select registration
country & port

TOYOTA
COROLLA SPACIO

PRICE DOWN
RECOMMEND

2001
NZE121
3069700
119,076
AT
1,500
Petrol

1,505USD

select registration
country & port

TOYOTA
COROLLA SPACIO
2003
NZE121
3212694
107,352
AT
1,500
Petrol

1,384USD

select registration
country & port

TOYOTA
COROLLA SPACIO
2003
ZZE122
3068004
165,917
AT
1,800
Petrol

1,486USD

select registration
country & port

TOYOTA
COROLLA SPACIO
2001
ZZE122
3019491
138,129
AT
1,800
Petrol

1,356USD

select registration
country & port

TOYOTA
COROLLA SPACIO
2001
ZZE122
3013021
88,279
AT
1,800
Petrol

1,552USD

select registration
country & port

TOYOTA
COROLLA SPACIO
2001
NZE121
3085464
104,649
AT
1,500
Petrol

1,561USD

select registration
country & port

TOYOTA
COROLLA SPACIO
2004
NZE121
3258438
151,136
AT
1,500
Petrol

1,421USD

select registration
country & port

TOYOTA
COROLLA SPACIO
2002
ZZE122
3042300
181,361
AT
1,800
Petrol

1,337USD

select registration
country & port

TOYOTA
COROLLA SPACIO
2003
NZE121
3175447
125,154
AT
1,500
Petrol

1,356USD

select registration
country & port

TOYOTA
COROLLA SPACIO
2001
ZZE122
3012626
101,398
AT
1,800
Petrol

1,300USD

select registration
country & port

TOYOTA
COROLLA SPACIO
2003
ZZE122
3087107
86,628
AT
1,800
Petrol

1,253USD

select registration
country & port

TOYOTA
COROLLA SPACIO
2004
NZE121
3260229
145,917
AT
1,500
Petrol

1,402USD

select registration
country & port

TOYOTA
COROLLA SPACIO
2001
NZE121
3076355
35,612
AT
1,500
Petrol

1,412USD

select registration
country & port

TOYOTA
COROLLA SPACIO
2001
NZE121
3071291
69,543
AT
1,500
Petrol

1,356USD

select registration
country & port

TOYOTA
COROLLA SPACIO
2003
NZE121
3184736
111,522
AT
1,500
Petrol

1,328USD

select registration
country & port

TOYOTA
COROLLA SPACIO
2001
NZE121
3058112
148,398
AT
1,500
Petrol

1,262USD

select registration
country & port

TOYOTA
COROLLA SPACIO
2003
NZE121
3187077
72,253
AT
1,500
Petrol

1,356USD

select registration
country & port

TOYOTA
COROLLA SPACIO
2003
NZE121
3184196
68,610
AT
1,500
Petrol

1,309USD

select registration
country & port

TOYOTA
COROLLA SPACIO
2003
NZE121
3168858
91,401
AT
1,500
Petrol

1,309USD

select registration
country & port

TOYOTA
COROLLA SPACIO
2001
NZE121
3080767
83,630
AT
1,500
Petrol

1,356USD

select registration
country & port

TOYOTA
COROLLA SPACIO
2003
NZE121
3157047
147,541
AT
1,500
Petrol

1,309USD

select registration
country & port

TOYOTA
COROLLA SPACIO
2003
NZE121
3179429
161,931
AT
1,500
Petrol

1,337USD

select registration
country & port

TOYOTA
COROLLA SPACIO
2003
NZE121
3172097
135,763
AT
1,500
Petrol

1,337USD

select registration
country & port

TOYOTA
COROLLA SPACIO
2002
ZZE122
3034169
62,936
AT
1,800
Petrol

1,356USD

select registration
country & port

TOYOTA
COROLLA SPACIO
2001
NZE121
3057480
145,620
AT
1,500
Petrol

1,374USD

select registration
country & port

TOYOTA
COROLLA SPACIO
2001
NZE121
3068936
54,348
AT
1,500
Petrol

1,412USD

select registration
country & port

TOYOTA
COROLLA SPACIO
2001
NZE121
3071253
131,520
AT
1,500
Petrol

1,356USD

select registration
country & port

TOYOTA
COROLLA SPACIO
2001
ZZE122
3011137
83,342
AT
1,800
Petrol

1,290USD

select registration
country & port

TOYOTA
COROLLA SPACIO
2003
NZE121
3221063
75,323
AT
1,500
Petrol

1,402USD

select registration
country & port

TOYOTA
COROLLA SPACIO
2002
NZE121
3122514
145,021
AT
1,500
Petrol

1,356USD

select registration
country & port

TOYOTA
COROLLA SPACIO
2002
NZE121
3124875
76,285
AT
1,500
Petrol

1,300USD

select registration
country & port

TOYOTA
COROLLA SPACIO
2003
NZE121
3181998
71,465
AT
1,500
Petrol

1,337USD

select registration
country & port

TOYOTA
COROLLA SPACIO
2003
NZE121
3183053
109,341
AT
1,500
Petrol

1,402USD

select registration
country & port

TOYOTA
COROLLA SPACIO
2001
ZZE122
3025579
114,171
AT
1,800
Petrol

1,402USD

select registration
country & port

TOYOTA
COROLLA SPACIO
2002
ZZE124
3006547
163,932
AT
1,800
Petrol

1,356USD

select registration
country & port

TOYOTA
COROLLA SPACIO
2003
NZE121
3187122
117,648
AT
1,500
Petrol

1,356USD

select registration
country & port

TOYOTA
COROLLA SPACIO
2004
ZZE122
3111551
40,733
AT
1,800
Petrol

1,253USD

select registration
country & port

TOYOTA
COROLLA SPACIO
2003
NZE121
3182670
154,174
AT
1,500
Petrol

1,300USD

select registration
country & port

TOYOTA
COROLLA SPACIO
2003
NZE121
3169153
162,584
AT
1,500
Petrol

1,402USD

select registration
country & port

TOYOTA
COROLLA SPACIO
2001
ZZE122
3019890
168,673
AT
1,800
Petrol

1,253USD

select registration
country & port

TOYOTA
COROLLA SPACIO
2001
NZE121
3084775
121,093
AT
1,500
Petrol

1,318USD

select registration
country & port

TOYOTA
COROLLA SPACIO
2003
NZE121
3175503
169,591
AT
1,500
Petrol

1,187USD

select registration
country & port

TOYOTA
COROLLA SPACIO
2001
ZZE122
3016587
132,022
AT
1,800
Petrol

1,150USD

select registration
country & port