Search For Car
Total Price Calculator

Help

Please select your country and Delivery Destination, then click the CALCULATE button.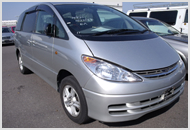 TOYOTA Estima
The Toyota Estima is designed with one concept: combine comfortable interior with luxury driving time. Its maximum seat capacity with eight seats, and the well designed chassis and body promise you a quiet and refined ride in comfort and luxury. Experts note the solid road handling even at high speed, and responsive steering. Our used Toyota Estima stock is quality guaranteed for your peace of mind.

Be sure to check out our Toyota Noah stock, too!