Search For Car
Total Price Calculator

Help

Please select your country and Delivery Destination, then click the CALCULATE button.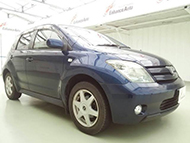 TOYOTA IST
A used Toyota ist for sale from Enhance Auto won't last long - they are one of our best sellers! The Toyota ist is your first class compact car. You can always enjoy drive the car with its perfect balanced chassis and colorful body design. Also, it is so sweet for us economically: fuel consumption, 18.0km/L. Color your life with your partner, Buy a Quality Guaranteed! used ist today!

If you like the ist, you may also like our used Vitz stock.
Stock List
Photo
Car
Year ▲ ▼
Model
Mile
Trans
Engine
FOB ▲ ▼
Total
TOYOTA
IST
2008
NCP110
0017083
101,397
AT
1,500
Petrol

3,543USD

select registration
country & port

TOYOTA
IST

PRICE DOWN
RECOMMEND

2002
NCP60
0053877
174,868
AT
1,300
Petrol

1,430USD

select registration
country & port

TOYOTA
IST
2003
NCP60
0106010
116,658
AT
1,300
Petrol

1,197USD

select registration
country & port

TOYOTA
IST
2002
NCP61
0019227
115,618
AT
1,500
Petrol

1,262USD

select registration
country & port

TOYOTA
IST
2005
NCP60
0210544
134,154
AT
1,300
Petrol

1,047USD

select registration
country & port

TOYOTA
IST

PRICE DOWN
RECOMMEND

2009
ZSP110
0004075
118,908
AT
1,800
Petrol

3,599USD

select registration
country & port

TOYOTA
IST
2002
NCP60
0020575
88,007
AT
1,300
Petrol

1,468USD

select registration
country & port

TOYOTA
IST
2003
NCP60
0082720
100,620
AT
1,300
Petrol

1,300USD

select registration
country & port

TOYOTA
IST
2003
NCP60
0079356
107,820
AT
1,300
Petrol

1,300USD

select registration
country & port

TOYOTA
IST
2005
NCP65
0034050
140,776
AT
1,500
Petrol

1,197USD

select registration
country & port

TOYOTA
IST
2002
NCP60
0020174
156,881
AT
1,300
Petrol

1,253USD

select registration
country & port

TOYOTA
IST
2005
NCP65
0034074
143,736
AT
1,500
Petrol

1,374USD

select registration
country & port

TOYOTA
IST
2003
NCP65
0017872
173,961
AT
1,500
Petrol

972USD

select registration
country & port

TOYOTA
IST
2003
NCP60
0079943
97,744
AT
1,300
Petrol

1,197USD

select registration
country & port

TOYOTA
IST
2002
NCP65
0006468
72,386
AT
1,500
Petrol

1,234USD

select registration
country & port