Search For Car
Total Price Calculator

Help

Please select your country and Delivery Destination, then click the CALCULATE button.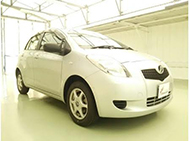 TOYOTA Vitz
All used Toyota Vitz for sale are Quality Guaranteed! The major appeal of the Toyota Vitz is (1) its fuel consumption, maximum 21.0km/l, (2) its unbelievably spacious interior which can comfortably accommodate five adult men, and (3) its refreshing & stylish design. Similar to the Toyota Passo, the Vitz combines safety, improved performance and refined interior appointments in one economical package. Most reviews of the Vitz cite its sporty ride, but the Vitz became a bestseller by adding 100kg worth of refinement to its interior when all other car-makers were stingy on the interior. Highest safety rating in its class.
Stock List
Photo
Car
Year ▲ ▼
Model
Mile
Trans
Engine
FOB ▲ ▼
Total
TOYOTA
VITZ
2005
KSP90
5026744
125,257
AT
1,000
Petrol
1,141USD
select registration
country & port

TOYOTA
VITZ
2000
NCP10
0046161
115,235
AT
1,300
Petrol
888USD
select registration
country & port