Search For Car
Total Price Calculator

Help

Please select your country and Delivery Destination, then click the CALCULATE button.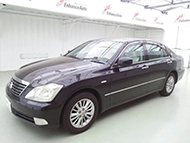 TOYOTA Crown
All used Toyota Crown from Enhance Auto are Quality Guaranteed! There is old Japanese saying "Crown - someday in the future". The Crown is a masterpiece of Toyota workmanship and, in Japan, a reward for hard work. With its powerful engine and elegant design, it promises you luxury, comfort, a quiet ride, and prestige.

Please also take a moment to view the Premio stock.
Stock List
Photo
Car
Year ▲ ▼
Model
Mile
Trans
Engine
FOB ▲ ▼
Total
TOYOTA
CROWN
2005
GRS180
0024649
169,672
AT
2,500
Petrol

1,767USD

select registration
country & port

TOYOTA
CROWN
2008
GRS200
0007738
174,808
AT
2,500
Petrol

5,692USD

select registration
country & port

TOYOTA
CROWN
2005
GRS180
0024531
180,738
AT
2,500
Petrol

2,122USD

select registration
country & port

TOYOTA
CROWN
2005
GRS180
0034179
181,029
AT
2,500
Petrol

2,346USD

select registration
country & port

TOYOTA
CROWN
2004
GRS180
5009191
153,608
AT
2,500
Petrol

2,262USD

select registration
country & port

TOYOTA
CROWN
2005
GRS180
0019796
160,049
AT
2,500
Petrol

1,860USD

select registration
country & port

TOYOTA
CROWN
2005
GRS180
0017168
164,721
AT
2,500
Petrol

1,972USD

select registration
country & port

TOYOTA
CROWN
2005
GRS180
0024661
193,692
AT
2,500
Petrol

1,701USD

select registration
country & port

TOYOTA
CROWN
2004
GRS180
5002241
148,512
AT
2,500
Petrol

1,814USD

select registration
country & port

TOYOTA
CROWN
2004
GRS180
0010637
132,121
AT
2,500
Petrol

2,458USD

select registration
country & port

TOYOTA
CROWN
2008
GRS200
0022241
132,262
AT
2,500
Petrol

7,739USD

select registration
country & port