Search For Car
Total Price Calculator

Help

Please select your country and Delivery Destination, then click the CALCULATE button.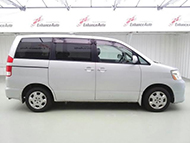 TOYOTA Noah AZR60/65
The Toyota Noah boasts a meager fuel consumption 14.2km/L and seats 8 persons comfortable. With a smoother ride and improved handled over the previous model - the Noah Townace-Liteace - the new generation also features many of Toyota's higher end safety features, such as six airbags. Buy a used Toyota Noah with our Quality Guarantee and live prosperously!
Stock List
Photo
Car
Year ▲ ▼
Model
Mile
Trans
Engine
FOB ▲ ▼
Total
TOYOTA
NOAH
2001
AZR60
0002210
101,913
AT
2,000
Petrol

1,219USD

select registration
country & port

TOYOTA
NOAH
2005
AZR60
0390133
134,067
AT
2,000
Petrol

1,200USD

select registration
country & port

TOYOTA
NOAH
2003
AZR60
0173236
132,853
AT
2,000
Petrol

1,137USD

select registration
country & port

TOYOTA
NOAH
2003
AZR65
0006021
126,661
AT
2,000
Petrol

1,091USD

select registration
country & port

TOYOTA
NOAH
2002
AZR60
0147650
78,198
AT
2,000
Petrol

1,128USD

select registration
country & port

TOYOTA
NOAH
2005
AZR60
0457315
101,606
AT
2,000
Petrol

1,119USD

select registration
country & port

TOYOTA
NOAH
2003
AZR60
0249415
106,599
AT
2,000
Petrol

1,119USD

select registration
country & port

TOYOTA
NOAH
2002
AZR60
0068465
150,357
AT
2,000
Petrol

1,019USD

select registration
country & port

TOYOTA
NOAH
2003
AZR60
0189826
112,704
AT
2,000
Petrol

1,191USD

select registration
country & port

TOYOTA
NOAH
2005
AZR60
0428646
130,402
AT
2,000
Petrol

1,237USD

select registration
country & port

TOYOTA
NOAH
2005
AZR60
0429634
119,016
AT
2,000
Petrol

1,210USD

select registration
country & port

TOYOTA
NOAH
2003
AZR60
0154950
56,056
AT
2,000
Petrol

1,200USD

select registration
country & port

TOYOTA
NOAH
2005
AZR60
0406514
130,814
AT
2,000
Petrol

1,273USD

select registration
country & port