Search For Car
Total Price Calculator

Help

Please select your country and Delivery Destination, then click the CALCULATE button.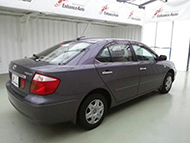 TOYOTA Premio
The elegant Toyota Premio as a used car is a bargain to be reckoned. A luxury sport sedan, the Premio combines superior fuel economy with a smooth transmission, quite ride, and powerful performance. Luxury is sometimes a necessity, and you'll find plenty of luxuries in a used Toyota Premio from Enhance Auto. Quality Guaranteed!

Another bestselling sedan is the Toyota Brevis.
Stock List
Photo
Car
Year ▲ ▼
Model
Mile
Trans
Engine
FOB ▲ ▼
Total
TOYOTA
PREMIO
2004
ZZT245
0019887
128,933
AT
1,800
Petrol

1,814USD

select registration
country & port

TOYOTA
PREMIO
2004
ZZT240
0076306
63,784
AT
1,800
Petrol

2,178USD

select registration
country & port

TOYOTA
PREMIO
2004
NZT240
5028307
66,761
AT
1,500
Petrol

2,113USD

select registration
country & port

TOYOTA
PREMIO
1997
AT211
0057878
66,697
AT
1,800
Petrol

1,318USD

select registration
country & port

TOYOTA
PREMIO
2008
ZRT260
3037345
16,135
AT
1,800
Petrol

4,468USD

select registration
country & port

TOYOTA
PREMIO
2003
NZT240
0036056
63,346
AT
1,500
Petrol

2,328USD

select registration
country & port