Search For Car
Total Price Calculator

Help

Please select your country and Delivery Destination, then click the CALCULATE button.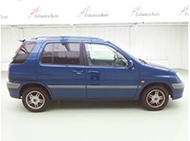 TOYOTA Raum
The concept behind the Toyota Raum, similar to the Toyota Spacio, is human friendly compact car. The Raum's high step designed driver seat brings you a high with improved visibility, and the Raum is rated as most economically friendly car for a long time. All our used Raum stock is Quality Guaranteed! Buy a used Toyota Raum today!
Stock List
Photo
Car
Year ▲ ▼
Model
Mile
Trans
Engine
FOB ▲ ▼
Total
TOYOTA
RAUM
2004
NCZ20
0044523
97,619
AT
1,500
Petrol

919USD

select registration
country & port

TOYOTA
RAUM
2003
NCZ25
0002457
116,116
AT
1,500
Petrol

882USD

select registration
country & port

TOYOTA
RAUM
2003
NCZ20
0015774
152,807
AT
1,500
Petrol

919USD

select registration
country & port

TOYOTA
RAUM
2003
NCZ20
0024322
122,492
AT
1,500
Petrol

910USD

select registration
country & port

TOYOTA
RAUM
2003
NCZ25
0002152
96,673
AT
1,500
Petrol

946USD

select registration
country & port

TOYOTA
RAUM

PRICE DOWN
RECOMMEND

2003
NCZ20
0027734
106,686
AT
1,500
Petrol

1,000USD

select registration
country & port

TOYOTA
RAUM
2003
NCZ20
0014234
111,484
AT
1,500
Petrol

919USD

select registration
country & port

TOYOTA
RAUM
2003
NCZ20
0010516
124,562
AT
1,500
Petrol

864USD

select registration
country & port

TOYOTA
RAUM
2003
NCZ20
0002043
151,492
AT
1,500
Petrol

973USD

select registration
country & port

TOYOTA
RAUM
2003
NCZ20
0008839
153,011
AT
1,500
Petrol

937USD

select registration
country & port

TOYOTA
RAUM
2003
NCZ20
0024840
102,537
AT
1,500
Petrol

1,000USD

select registration
country & port

TOYOTA
RAUM
2004
NCZ20
0060071
127,110
AT
1,500
Petrol

919USD

select registration
country & port

TOYOTA
RAUM
2003
NCZ20
0004265
100,900
AT
1,500
Petrol

1,000USD

select registration
country & port

TOYOTA
RAUM
2003
NCZ20
0003795
131,348
AT
1,500
Petrol

1,000USD

select registration
country & port

TOYOTA
RAUM
2005
NCZ20
0078636
43,739
AT
1,500
Petrol

1,019USD

select registration
country & port

TOYOTA
RAUM
2003
NCZ25
0001480
111,268
AT
1,500
Petrol

955USD

select registration
country & port

TOYOTA
RAUM
2003
NCZ20
0013423
130,026
AT
1,500
Petrol

964USD

select registration
country & port

TOYOTA
RAUM
2003
NCZ20
0011805
132,119
AT
1,500
Petrol

910USD

select registration
country & port

TOYOTA
RAUM
2004
NCZ20
0038783
87,937
AT
1,500
Petrol

900USD

select registration
country & port

TOYOTA
RAUM
2004
NCZ20
0027400
51,162
AT
1,500
Petrol

873USD

select registration
country & port

TOYOTA
RAUM
2003
NCZ20
0004480
133,201
AT
1,500
Petrol

910USD

select registration
country & port

TOYOTA
RAUM
2003
NCZ20
0002238
121,763
AT
1,500
Petrol

900USD

select registration
country & port

TOYOTA
RAUM
2004
NCZ20
0051424
88,107
AT
1,500
Petrol

991USD

select registration
country & port

TOYOTA
RAUM
2003
NCZ20
0029331
84,502
AT
1,500
Petrol

900USD

select registration
country & port

TOYOTA
RAUM
2004
NCZ20
0060943
88,196
AT
1,500
Petrol

919USD

select registration
country & port

TOYOTA
RAUM
2003
NCZ20
0009307
101,482
AT
1,500
Petrol

873USD

select registration
country & port

TOYOTA
RAUM
2003
NCZ20
0026099
90,043
AT
1,500
Petrol

937USD

select registration
country & port