Search For Car
Total Price Calculator

Help

Please select your country and Delivery Destination, then click the CALCULATE button.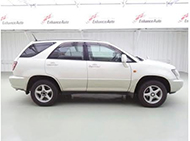 TOYOTA Harrier
Based on the Lexus RX, the our used Toyota Harrier for sale are Quality Guaranteed and most surely put the "luxury" in "luxury SUV." The comfort level is for those discerning individuals who know quality when they see it. The Toyota Harrier is truly in a class of its own. Buy your Harrier at Enhance Auto today!

For a larger SUV, see the LandCruiser Prado.
Stock List
Photo
Car
Year ▲ ▼
Model
Mile
Trans
Engine
FOB ▲ ▼
Total
TOYOTA
HARRIER
1999
SXU10
0018716
182,916
AT
2,200
Petrol

2,464USD

select registration
country & port

TOYOTA
HARRIER
2005
ACU30
0044293
115,550
AT
2,400
Petrol

5,055USD

select registration
country & port

TOYOTA
HARRIER

PRICE DOWN
RECOMMEND

2008
ACU30
0088053
127,804
AT
2,400
Petrol

5,864USD

select registration
country & port

TOYOTA
HARRIER
2004
ACU30
0021614
156,819
AT
2,400
Petrol

4,464USD

select registration
country & port

TOYOTA
HARRIER
2001
ACU15
0002478
161,045
AT
2,400
Petrol

2,710USD

select registration
country & port

TOYOTA
HARRIER
2008
ACU30
9856300
93,731
AT
2,400
Petrol

5,710USD

select registration
country & port

TOYOTA
HARRIER
2008
ACU30
9854237
108,898
AT
2,400
Petrol

5,355USD

select registration
country & port

TOYOTA
HARRIER
2004
ACU30
0027651
153,487
AT
2,400
Petrol

4,610USD

select registration
country & port

TOYOTA
HARRIER
2003
ACU30
0001317
139,022
AT
2,400
Petrol

4,582USD

select registration
country & port

TOYOTA
HARRIER
2005
ACU30
0038873
83,244
AT
2,400
Petrol

4,155USD

select registration
country & port

TOYOTA
HARRIER
2008
ACU30
9854602
123,141
AT
2,400
Petrol

5,355USD

select registration
country & port

TOYOTA
HARRIER
1999
SXU10
0019192
198,106
AT
2,200
Petrol

2,055USD

select registration
country & port

TOYOTA
HARRIER
2001
ACU15
0003251
175,322
AT
2,400
Petrol

2,464USD

select registration
country & port

TOYOTA
HARRIER
2003
ACU30
0003993
144,605
AT
2,400
Petrol

4,210USD

select registration
country & port

TOYOTA
HARRIER
1998
MCU15
0052305
115,129
AT
3,000
Petrol

1,819USD

select registration
country & port

TOYOTA
HARRIER
2003
ACU30
0005834
118,271
AT
2,400
Petrol

4,500USD

select registration
country & port

TOYOTA
HARRIER
1999
SXU10
0020925
128,594
AT
2,200
Petrol

2,210USD

select registration
country & port

TOYOTA
HARRIER
2004
ACU35
0006230
138,685
AT
2,400
Petrol

4,819USD

select registration
country & port

TOYOTA
HARRIER
2003
ACU30
0002068
85,219
AT
2,400
Petrol

4,437USD

select registration
country & port

TOYOTA
HARRIER
2005
ACU30
0029194
116,477
AT
2,400
Petrol

4,619USD

select registration
country & port

TOYOTA
HARRIER
2005
ACU30
0040764
151,516
AT
2,400
Petrol

4,428USD

select registration
country & port

TOYOTA
HARRIER
2003
ACU35
0001464
160,451
AT
2,400
Petrol

4,210USD

select registration
country & port

TOYOTA
HARRIER
2008
ACU30
0089077
102,044
AT
2,400
Petrol

5,446USD

select registration
country & port

TOYOTA
HARRIER
2003
ACU35
0002240
167,753
AT
2,400
Petrol

4,346USD

select registration
country & port

TOYOTA
HARRIER
2001
ACU10
0005395
195,128
AT
2,400
Petrol

2,446USD

select registration
country & port

TOYOTA
HARRIER
2005
ACU30
0038370
116,144
AT
2,400
Petrol

4,000USD

select registration
country & port

TOYOTA
HARRIER
2004
ACU30
0015303
130,191
AT
2,400
Petrol

4,564USD

select registration
country & port

TOYOTA
HARRIER
2003
ACU30
0003790
119,755
AT
2,400
Petrol

4,564USD

select registration
country & port

TOYOTA
HARRIER
2005
ACU30
0038202
131,898
AT
2,400
Petrol

4,700USD

select registration
country & port

TOYOTA
HARRIER
2003
ACU30
0007337
166,026
AT
2,400
Petrol

4,110USD

select registration
country & port

TOYOTA
HARRIER
2008
ACU30
9853889
117,748
AT
2,400
Petrol

6,055USD

select registration
country & port

TOYOTA
HARRIER
2004
ACU30
0029177
99,769
AT
2,400
Petrol

4,846USD

select registration
country & port

TOYOTA
HARRIER
2001
ACU10
0003393
220,019
AT
2,400
Petrol

2,464USD

select registration
country & port

TOYOTA
HARRIER
2001
ACU10
0003927
150,173
AT
2,400
Petrol

2,519USD

select registration
country & port

TOYOTA
HARRIER
2008
ACU30
9854750
101,198
AT
2,400
Petrol

5,446USD

select registration
country & port

TOYOTA
HARRIER
2008
ACU30
0086988
155,181
AT
2,400
Petrol

5,210USD

select registration
country & port

TOYOTA
HARRIER
2008
ACU30
0084948
133,758
AT
2,400
Petrol

4,500USD

select registration
country & port