Search For Car
Total Price Calculator

Help

Please select your country and Delivery Destination, then click the CALCULATE button.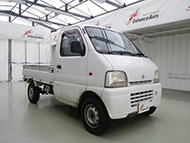 SUZUKI CARRY
The Suzuki Carry is one of the most useful trucks in the world. It is first manufactured on 1960's, so the Suzuki Carry has been improved to be more and more useful in long history. The Carry's good weight balance and simply designed chassis help you to carry anything you want and promise your convenient working life. Carry your dream with your quality guaranteed used Suzuki Carry from Enhance Auto!

Need something bigger? Check out the Toyota Liteace!