Search For Car
Total Price Calculator

Help

Please select your country and Delivery Destination, then click the CALCULATE button.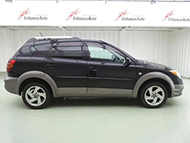 TOYOTA Voltz
The SUV-styled Toyota Voltz emphasizes individualism with its rugged exterior and chrome interior appointments. The instrument panel is intuitively arranged and incorporates well-defined lines to exude a sense of muscularity. Rear seats are capable of 60/40 split for accommodate two rear passengers while still hauling larger cargo with one rear seat folded down. Front and side airbags are standard on all models. Our used Voltz stock Quality Guaranteed so you buy with confidence!

View our used Toyota Wish stock here.
Stock List
Photo
Car
Year ▲ ▼
Model
Mile
Trans
Engine
FOB ▲ ▼
Total
TOYOTA
VOLTZ
2002
ZZE136
0002824
198,800
AT
1,800
Petrol

2,019USD

select registration
country & port